Chat Room Information Page

Notice: Anyone who chooses to be a troublemaker in the chat room WILL be banned! No second chances.
Click Here to report someone deliberately causing a problem.

For your safety & security, all public & private messages are logged

You do NOT need to register to use the Chat Room.
If you are asked for a password, that just means that the username you chose has already been reserved by someone else.
Just pick a different user name to avoid being asked for a password.

It is not required but if you want to, you can Register your Chat Room user name & protect it with a password. Click HERE.

You can use the Chat Room with your Mobile Device. Click here to see how.


If you would like to make a donation to help defray the cost of the Chat Room click HERE.
Donations of $25 or more will receive this exclusive Rainbow Bridge wristband.*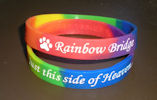 *Because of exorbitant international shipping costs, this wristband is only available to Petloss.com supporters who live in the USA.

Thanks so much to the Chat Room Supporters!



Do your

shopping through Petloss.com & help support Petloss.com for free!
Click HERE to see how it works.