(Revised 12/30/18)


New! Chat Room Information Page


Notice: Anyone who chooses to be a troublemaker in the chat room WILL be banned! No second chances.
Click Here to report someone deliberately causing a problem.

As of 12/30/18 we are using a new chat service, Chatzy, because our former service, Parachat, has shut down.
One big change is now you must register before you can use this new chat room.
This is necessary to keep the room a safe place for everyone.
Registering is easy, free. & just takes a few seconds.
Because this is all new, there may be unexpected problems.
Please let me know if you are having trouble using this new Chat Room.
My Email:

If you would like to make a donation to help defray the cost of the Chat Room click HERE.
Donations of $25 or more will receive this exclusive Rainbow Bridge wristband.*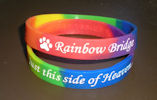 *Because of exorbitant international shipping costs, this wristband is only available to Petloss.com supporters who live in the USA.

Thanks so much to the Chat Room Supporters!



Do your

shopping through Petloss.com & help support Petloss.com for free!
Click HERE to see how it works.