06/28/15
Your help is needed to support this website.
Since it began as a simple homepage in 1993, Petloss.com has grown to become the most used pet loss grief support site on the Internet.
Eventually, the hours required every day to maintain the website escalated to the point that I had to make a choice between my regular job & the website.
I chose the website.
To maintain these many pet-loss support services while expanding the website's ability to ease the pain of the many with hurting hearts, I gave up my job and made this website my full-time occupation.
The website continues to expand and improve.
Tributes are now being posted with photos on the day they are entered.
The chat room is safer and larger.

The entire website is scanned daily by Online Link Scan, PhishTank, Google Safe Browsing, WebsecurityGuard, BrowserDefender, hpHosts and SpyEyeTracker to ensure it remains completely free of any virus or other threat:
For all this to continue, I must ask for financial support from those of you who believe in this website's mission and want to be a real part of it.

Please help with any amount you can with a secure donation by clicking on the "Donate" button below.
All major credit cards are accepted.

Donations of $25 or more will receive this exclusive Rainbow Bridge wristband.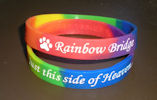 This wristband is only for Petloss.com supporters.


All donations are greatly appreciated. - EdW