Chat Room Information Page

Notice: Anyone who chooses to be a troublemaker in the chat room WILL be banned! No second chances.
Click Here to report someone deliberately causing a problem.

For your safety & security, all public & private messages are logged

You do NOT need to register to use the Chat Room.
If you are asked for a password, that just means that the username you chose has already been reserved by someone else.
Just pick a different user name to avoid being asked for a password.

It is not required but if you want to, you can Register your Chat Room user name & protect it with a password. Click HERE.

You can use the Chat Room with your Mobile Device. Click here to see how.

This special Chat Room login page uses an applet that will make copy/paste work for you in the Chat Room.
If a warning appears, click on the button that allows the applet to run. It IS safe to do. - EdW.
(If you do not see the chat window after clicking "connect", click the chat icon on the task bar)
If you would like to make a donation to help defray the cost of the Chat Room click HERE.
Donations of $25 or more will receive this exclusive Rainbow Bridge wristband.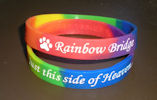 (You will be emailed for your mailing address.)

Thanks so much to the Chat Room Supporters!



Do your

shopping through Petloss.com & help support Petloss.com for free!
Click HERE to see how it works.