Best Friends Animal Society: Kanab, Utah
The largest no-kill animal sanctuary in the nation.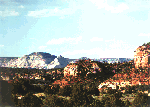 (Click on picture for a larger image.)
---
The distant white cliffs of Zion National Park stand watch over the sanctuary, forming a giant semicircle around the sage and juniper woods where the dogs and cats have their homes.
The sparkling creek wends its way down to the Grand Canyon, quietly shaping the intricate red-rock beauty of Angel Canyon as it feeds the pastures where the horses and burros roam contentedly.
To all who come here, this ancient, magical land is a miracle of nature.
What happens within its peaceful setting, for the thousands of abused and abandoned animals who are rescued and brought to Best Friends, the largest no-kill animal sanctuary in the nation, is a miracle of love.
Best Friends is a haven for animals who come from really bad-luck situations. Once they're here, we make sure that Best Friends is their good-luck place, where they can begin a new life that will truly make up for whatever went before.
It's a unique animal sanctuary - quite different from the average city shelter, pound or humane society. There are never less than 1,500 dogs and cats and other animals at any given time. Most of them stay for just a short while - long enough to be pampered with a warm welcome, plenty of good food and vitamins, and a thorough medical check (including a visit to the spay/neuter clinic), before they're healthy and happy and ready to go off to a good new home.
But there are also many who are not suitable for adoption. Some are too old or too sick, others just too traumatized from whatever abuse or neglect they've suffered to be able to adjust again to regular home life. For these most needy ones, Best Friends can be a refuge and a blessing, where they're loved and cared for, for the rest of their lives.
HEARTS AND HANDS. Needless to say, none of this work would be possible without the hearts and hands of our members and supporters. Just for starters, the dogs eat ten tons of dry kibble, and a ton of canned food, every month. And many of the animals have medical conditions that require daily treatments and special diets. But when you know the lives that they once lived, you don't begrudge them the smallest part of this extra care.
Of course, however big Best Friends may be, we know that no single sanctuary can take care of all the needy animals in the world. So our low-cost spay/neuter clinic and educational programs help reduce the numbers of homeless pets being born. And hands-on seminars at the sanctuary draw people from around the country and beyond who want to help animals in their own neighborhoods.
With more sanctuaries being born every day, together with more spay/neuter and adoption programs, we can see a day coming when there are no homeless, abandoned animals roaming our streets, and when every new-born puppy and kitten can be guaranteed a good life in a good home.
These miracles of love and kindness are only possible because of the support of animal lovers like you. Best Friends members are the heart and soul of all that happens, both here at the sanctuary and in our outreach and education programs. Without the generosity of people who care about these innocent little creatures, none of it would be possible.
SO PLEASE JOIN WITH US IN THIS WORK OF LOVE, and become part of Best Friends. Every new member, and every contribution that comes in to help the animals represents another life saved, another home found, and the satisfaction of knowing that between us all who love animals, kindness and goodness have scored another small triumph.
Thanks for caring about the animals, and bless you for your kindness.
Michael Mountain
Best Friends
P.S. If your travels bring you out to our neck of the woods, we'd love to show you around. And you'll enjoy the peace and tranquillity and the amazing wildlife of this beautiful canyon setting where they all live "happily ever after."
---
Best Friends Animal Society also has a website. Take a look!
---