<!C- Last Updated : 02/04/96 5:18 PM->
Angels Rest
Pet Memorial Park
At Best Friends Animal Sanctuary: Kanab, Utah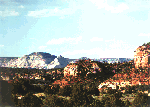 (Click on picture for a larger image.)
---
When the animals here at the sanctuary pass on, they are laid to rest at Angels Rest. One of the most beautiful areas of Angel Canyon.
Amidst the hallowed beauty of Southern Utah's red rock canyons, it is a place of quiet and eternal perfection.
To know that our loved and cherished friend will sleep in a place where eagles nest amidst the red crags, where deer drink from the little streams, and where countless furry friends play in the long grasses and wildflowers of the nearby meadows, is a precious comfort in our time of grief.
Angels Rest gives us a special peace and talks to us of tranquillity, eternity and the place of reunion that lies "over the Rainbow Bridge."
If you'd like your own best friend laid to rest in the peace and beauty of Angels Rest, or you'd like a memorial placed here in their name, please write or call for information and prices. Angels Rest Memorial Park, Best Friends Animal Sanctuary, Kanab, UT 84741-5001. Call (801) 644-2001
---
Click here to learn more about the Best Friends Animal Sanctuary